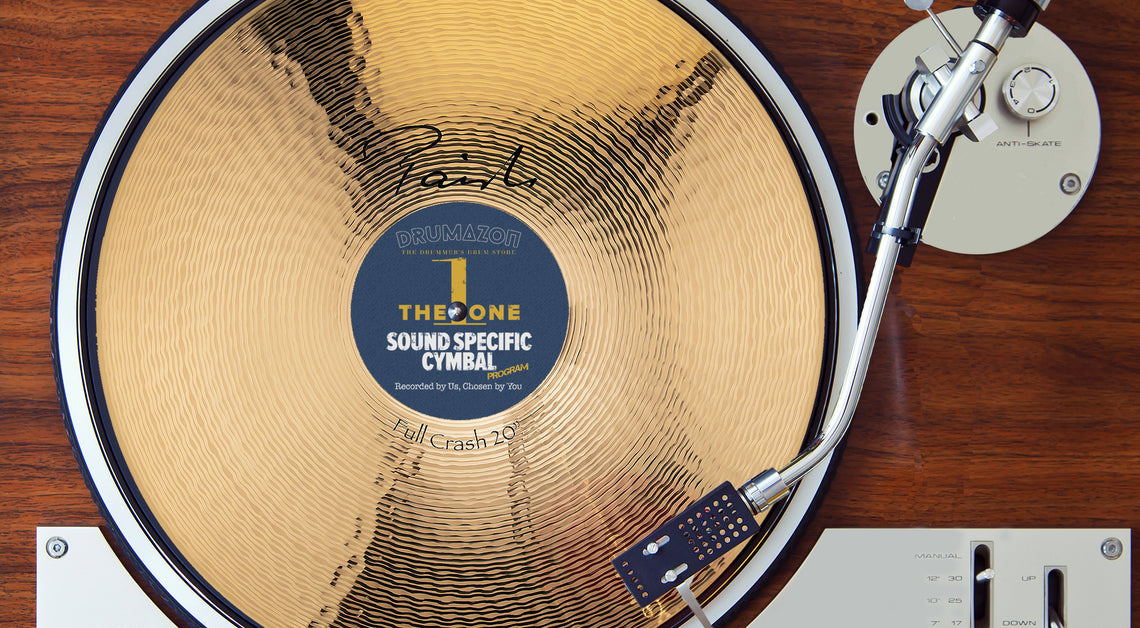 Drumazon are proud to introduce the Sound Specific Cymbal Program

Buying cymbals online has always been a tricky business

The pitch, decay, timbre and weight can widely vary between two identical make and model cymbals making it impossible to buy with confidence online.

Whilst sound files have been around for a long time often the clip is not of an actual cymbal, or if the recording is of the actual cymbal the consistency between recording and capture equipment is often flawed or varied giving the listener no reference point by which to compare and contrast the cymbal constructively.

After nearly two years of testing and development we believe we have come up with the solution!

'The One' Sound Specific Cymbal Program

Recorded by Us and Chosen By You.

Here's how it works

You can buy the actual cymbal(s) featured through a series of specialist videos showcasing ready available cymbals straight from our vault inventory.

To provide some real world context the video starts with a full demonstration set to music. In the middle the cymbals are separately played whilst displaying their simple yet unique serial numbers, finally the original piece is played again with an isolated cymbal mix.
Buy with confidence
We go to great lengths to ensure that the sound you hear on our recordings are acturate
All the cymbals are recorded to our exacting standards in the same room with the same neutral settings captured through the same high quality audio and video equipment
We have produced a variety of musical arrangements in-house which are chosen to best showcase the cymbal.
Every cymbal offered as part of the program has been hand selected by us to ensure it is already a great example
That cymbal is then placed within a set of 8 cymbals that we feel work well together to create a complimentary set up for the video.
Each individual cymbal will have its own video
In cases where we have multiple examples of popular models, each has its own unique video and serial number, allowing you to compare and contrast every aspect of our cymbal stock.
Once the cymbal is recorded, it is put back in its factory packaging, stamped on the bag with its unique serial number and a certificate is printed confirming the session details and serial number details.
If you would prefer a non recorded box fresh stock cymbal, these are also still available on separate listings that don't feature videos, the choice is completely yours.