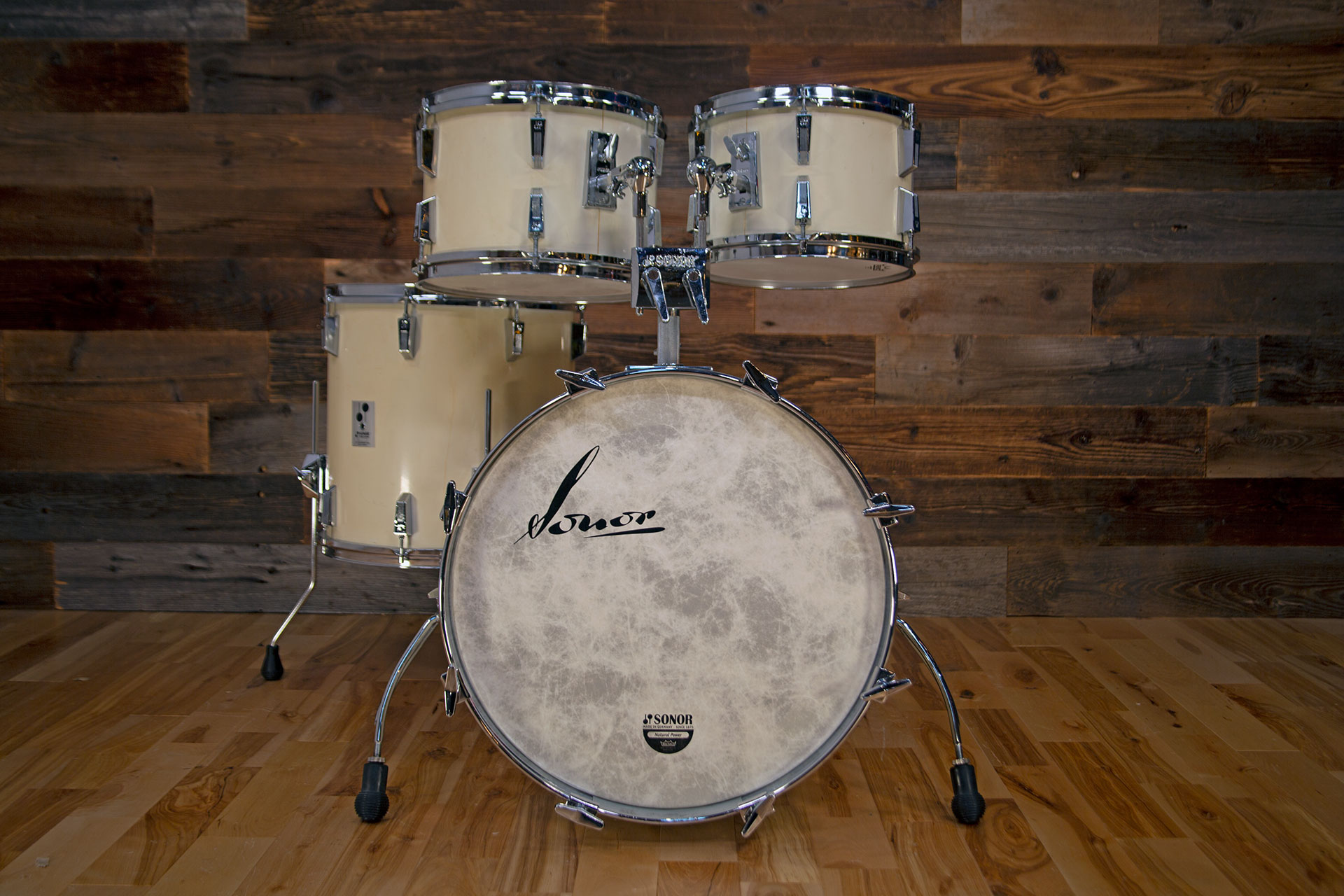 DRUM KITS
SONOR PHONIC BEECH 4 PIECE DRUM KIT RARE STANDARD SIZES, GLOSS WHITE, (PRE-LOVED)
Here we have an incredible Sonor Phonic from the 80's. This kit comes in the very rare standard depth toms and has an even rarer 20 x 14 bass drum. The kit is finished in Gloss White, the finish has aged to a creme white and there are quite a few marks and stains on the finish.
Phonic drums were the foundation of the Sonor drum program in the 80's. The sound quality of these 9 ply beech shells has been imitated by many but never quite replicated over the years. To find one in these sizes has been a treat, the shorter depths give this kit incredible punch.
All Phonic drums were made in Sonor Germany from high quality Beech in a 9-ply format. They are renowned for their full sound and high projection. Like the Signature series, the phonic features the very same Ferro Manganese rims on the toms and hoops on the bass drum, snap lock tension rods and prism clamp systems on the floor tom brackets and bass drum spurs.
Whilst the finish is showing its age, the metal work is all original and incredibly clean and the shells are phenomenal. For somebody looking for a great playing set this is certainly one to check out, especially if you like standard depth toms. The kit could be professionally re-covered should someone wish to renovate the set though we feel there is something very special about the kit as it stands which looks like a well worked, used but not abused set.
These kits are high demand for both collectors and players who want one of Sonor's most iconic ranges. These sizes are some of the rarest to find in the Phonic range and may possibly add very nicely to an existing power or extended depth kit. Because the finish is showing it's age the set is priced accordingly.
12 x 8 & 13 x 9 Mounted Toms

16 x 16 Floor Tom

20 x 14 Bass Drum

Bass drum double tom holder

9 Ply Beech Shells

Gloss White finish

Ferro Manganese Hoops and Rims throughout

Made in Germany Circa 1980's

PreLoved - 6/10 Condition - Immaculate chrome, Gloss White wrap has aged and is stained in places