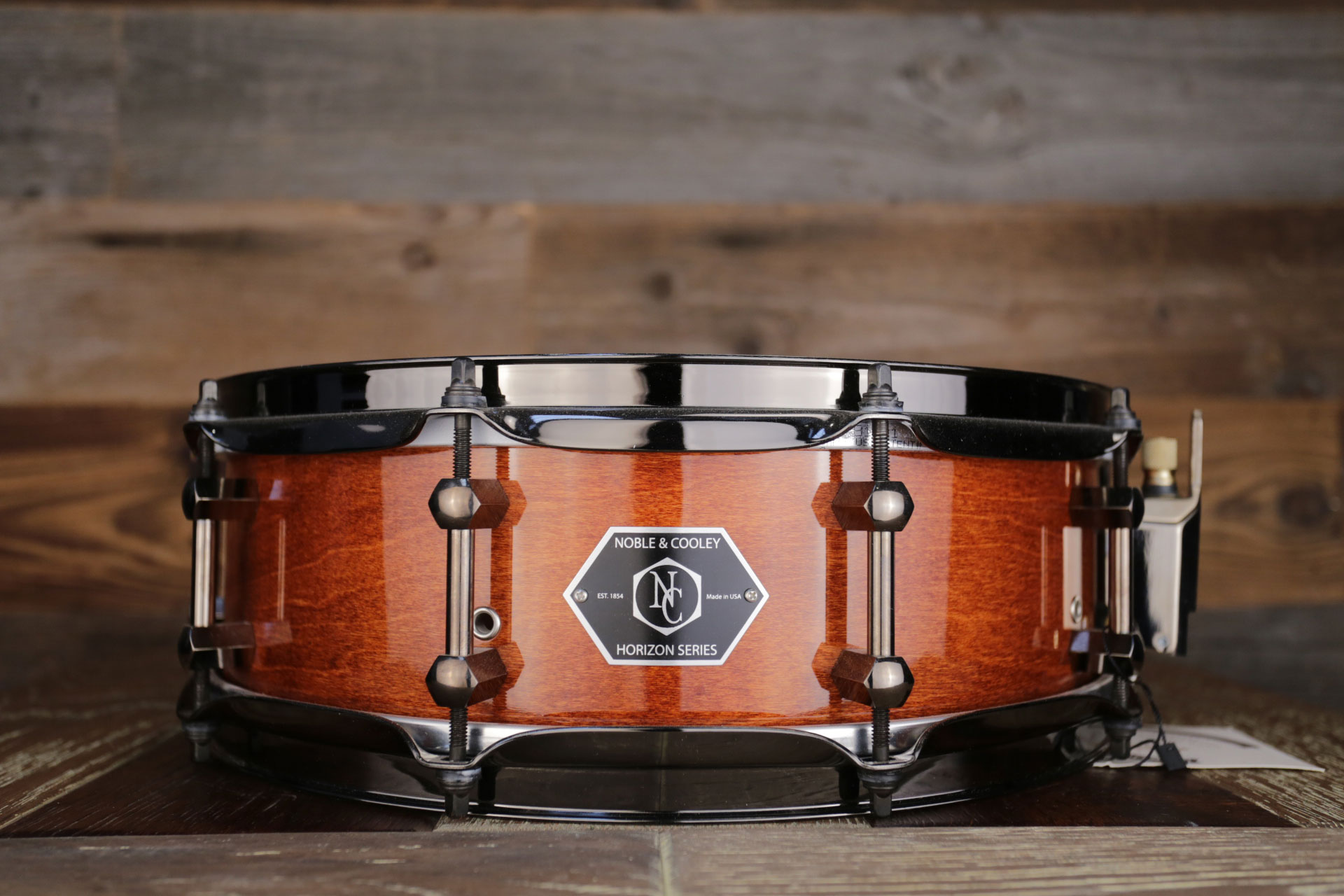 SNARE DRUMS
NOBLE & COOLEY HORIZON 14 X 4.75 MAPLE/MAHOGANY SNARE DRUM HONEY MAPLE GLOSS / BLACK CHROME HARDWARE
N&C'S FIRST EVER HYBRID SNARE DRUM
Designed to complement the Horizon series drum kits, the Horizon snare drums feature a unique horizontal orientation and offer a sound distinct from conventional ply drums. Just as with the kits, the horizontal plies resonate more uniformly creating the strong attack of a solid shell but are balanced with an inner ply of Mahogany that adds some darkness to the tone. The result is a clarity of sound which cuts through the mix yet remains musical and vibrant. These have the personality of solid shell drums but with a slightly dampened effect with shorter decay and a drier attack.
N&C SYMMETRICAL VENTING
"Rather than place a single vent hole on the shell simply for manufacturing convenience, we did our research, because that's the kind of attention to detail we put into everything we do. If we're going to drill holes in our drums, we want to do so with purpose. We found that multiple, strategically and symmetrically placed venting holes made a positive difference in both the sound and feel of the drum"
N&C's snare system is a combination of the snares, the throw-off, and the snare beds, all N&C snares comes with Noble & Cooley patented cam action snare wires designed to allow tight tensioning without choking the bottom. These vibrate beautifully at medium and loose tensions, and can be tuned up or down as needed. Our brass throw-off is smooth and simple, with snare wires that can be engaged or disengaged easily.
F.Y.I. We Stock Noble and Cooley DieCast Hoops (Top and Bottom) in Chrome, Gold and Black Chrome, these are available as an upgradable option for all Snare Drums.
14 x 4.75 Horizon Maple Mahogany Hybrid Snare Drum
Horizontal Maple Ply Snare Drum with Inner Mahogany Ply
Finished in Honey Maple
Black Chrome Hardware
Black Horizon Badge
2.3mm Triple Flanged Hoops
Brass Tube Lugs
N&C Brass Throw Off
N&C Cam Action Lever Snare Wire
Hand Made and Custom Built by N&C in America
More About N&C.
We are very proud here at Drumazon to be exclusively representing Noble & Cooley Drums in the UK. This is a brand that we have all been life long fans of and it is an absolute privilege to be stocking these drums.
Noble and Cooley started in 1854 and are now being ran by the 6th and 7th generations of the Cooley Family. By the mid 1980's N&C were in the beginning stages of leading what would become the 'Custom Drum Movement', offering new pioneering approaches to drum design and finishing. Products started to come thick and fast such as the Solid Shell Kits & Snares (SS Series) , the Star series drums which probably were the worlds first short depth toms and the Horizon series offered up the original hybrid shell, all ideas way ahead of their time that are now imitated by many other brands. All these drums offered more innovations such as nodal point mounting, precise bearing edge design, symmetrical venting and furniture grade finishing.
If you haven't come across N&C drum sets, you probably have seen, played or heard one of their Snare Drums. Many professional drummers and recording studios have at least 1 or 2 N&C snares in their inventory. N&C offer some of the worlds finest Solid Shell, Ply Shell and Alloy Shells available, they also made a very famous snare in collaboration with Zildjian in the early 90's now in high demand on the vintage market.
The company is still located in Granville, Massachusetts, all their drums are hand made, hand finished and are built to last. Whether you buy a Kit or a Snare, Noble and Cooley drums will deliver pure joy! The way they play, the way they sound, the way they look, even the way N&C pack them, they are very special. These are drums from the worlds best drum makers that will hand down to future generations and continue what already is a great American Story.
The Present:
Noble and Cooley have recently opened up their range to offer Solid Shell kits again, they also continue to offer the CD Maple series which has been around since the early 80's and they have also re-introduced the Horizon series which is the snare we have here.
The Horizon was originally introduced in the 80's and the company dropped it out of the range in the mid 90's. The kits have always maintained a legendary status because of their Maple/Mahogany hybrid shell, remember in the 80's this was new territory. The shells are constructed horizontally which helps them to resonate more uniformly like the N&C steam bent shells. The inner mahogany offered throughout all the sizes adds a darker tone to the drums, these drums sound great live and in the studio. The updated version of the Horizon offers updated lugs, enhanced venting, the new cool mount brackets and a very large range of colours, and finishes.